House of JonLei Atelier is a full-service bridal and social occasion atelier nestled in the heart of National Harbor Resort located in National Harbor, Maryland.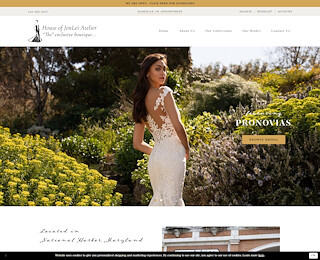 You'll find one of the best collections of bridesmaid dresses in DC when you visit House of JonLei Atelier. Choose from exclusive gowns by Sorella Vita or Bari Jay for a look that is absolutely stunning!

Bring your bridesmaids down to House of JonLei Ateleir and have them choose from the sensational Sorella Vita collection, with gowns that will complement your bridal gown without taking center stage. Choose from the following:

- Your bridesmaids will love the Style 8883 Sequin Bridesmaid Gown that was made to hug their curves and is available in 6 spectacular color options, including crimson, gold, onyx, platinum, rose gold and sapphire. Your bridesmaids will love showing off their curves with this V-neckline shoestring strap gown that cinches at the left waist.

- Style 8635 is a long-flowing Sequin Bridesmaid dress that is anything but ordinary. This Sorella Vita designer bridesmaid dress features a fitted bodice that slims while perfectly framing the fact with its unique V-neck. This is a very flattering style and one of the most beautiful bridesmaid dresses in DC!

- Style 8794 is a floor-length Sequin Metallic Bridesmaid Dress available in 6 shimmering colors that will add just the right amount of glamour to your wedding without upstaging you. You'll find this gown is also available in cocktail length, depending on your taste.

- Your bridesmaids will love the Chiffon High Low gown that is available in 33 different spectacular color options. Style 8826 is a very popular choice and is perfect for the bridal party looking to show off some style. The unique high low hemline is ideal for dancing.

You'll also find a unique collection of Bari Jay bridesmaid dresses in DC at House of JonLei Atelier that are perfect for the occasion. Choose from an amazing selection of gown lengths, styles, colors and materials for the look your girls will love. Bari Jay is one of the most popular designers for bridesmaids today. Let your bridesmaids know how much you appreciate them by choosing Bari Jay.

House of JonLei Atelier is proud to be able to offer the services of their in-house master seamstress to ensure your gowns fit beautifully. Alteration service is only one of the professional services provided for your bridal and bridesmaid dresses in the DC shop. If you'd like to arrange a meeting with the bridal specialists from House of JonLei Atelier, feel free to schedule your visit by calling 240-493-4502.

The big day is quickly approaching, leaving little time to make one of the most important decisions of all- where to buy your brides and bridesmaid dresses. We invite you to take a closer look at the spectacular gowns available at Home of JonLie Atelier by clicking on the 'Gallery' link on their website. You'll simply not find a better selection of gowns available in the DC area.

House of JonLei Atelier is the area's largest supplier of exclusive bridal dresses, men's custom tuxedo rentals, social attire and accessories for very special occasions.
Bridesmaid Dresses Dc
House of JonLei Atelier
(240) 493-4502
153 Potomac Passage, National Harbor, MD 20745
View Larger Map
We welcome your comments!