House of JonLei Atelier is a full-service bridal and social occasion atelier nestled in the heart of National Harbor Resort located in National Harbor, Maryland.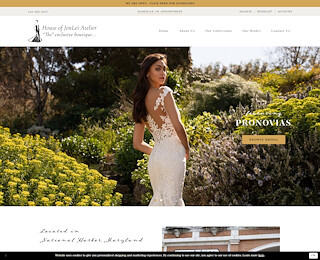 House of JonLei Atelier offers a diverse collection of bridal and social gowns.
We would first like to congratulate you on your upcoming nuptials. This is a special time of one's life, and we are happy you are allowing House of JonLei Atelier to be a part of this joyous occasion!
During each and every appointment we take the time to get to know you (the bride) your wedding details and what will make you feel beautiful in order to give you an unforgettable experience.
Here, you will find that we treat our guests like family. We have just as much fun styling as you do planning, or, getting ready for your special event.
Let House of JonLei Atelier ensure that you look amazing while you show up and look fabulous!
Services
ALTERATIONS – We want your gown to fit you perfectly. Our in-house master seamstresses are here to help! We can even create customizations to make sure you look better than you could have imagined!
BRIDAL SPECIALISTS – Our trained and experienced bridal specialists are here to ensure that you find the gown of your dreams! Their patience, expertise, and warm spirits allow being styled and finding your dream gown an experience to remember!
WEDDING GOWN PRESERVATION – We have an amazing partnership with Wedding Gown Preservation Co. They ensure that your gown is organically cleaned and preserved in a beautiful chest. It is guaranteed to last up to 100 years!
PRESSING/STEAMING - Your gown and veil (if purchased at our boutique) is pressed and/or steamed. Upon completion we very carefully place the items in a breathable garment bag. During your scheduled "Pick Up" appointment your attire is presented to you perfectly packaged and wrinkle free.
RUSH DELIVERY – This service is available; however, we must confirm with each designer.
We welcome your comments!